4 Things You Should Know About Moja
At BRCK, we build connectivity solutions that solve hard problems. Global internet penetration continues to experience growth, with 4.38 billion people (roughly 57%) of the world's population having access to internet services. While many African countries like Tanzania, Rwanda, and Djibouti have demonstrated impressive year-on-year growth in connectivity, internet penetration in Eastern Africa is only 32%. A large percentage of emerging market populations aren't connected to the internet due to limited network availability and financial constraints.  To bridge these gaps, we've built a solution, called Moja. It is a content delivery network and free WiFi platform that is furthering BRCK's mission to connect Africa to the internet. 
Here are 4 things you should know about Moja:
1. You can get connected without spending your hard-earned money
There is a great demand for connectivity in Africa, but the data costs are still a barrier for most. With Moja, as long as a user is within our extensive 3G and LTE network range, they can connect to our platform - and the internet - without spending a cent. While there,
they will have the opportunity to engage in various digital activities, such as watching sponsored videos or taking a survey in exchange for internet sessions. Connectivity is paid for with attention, not money.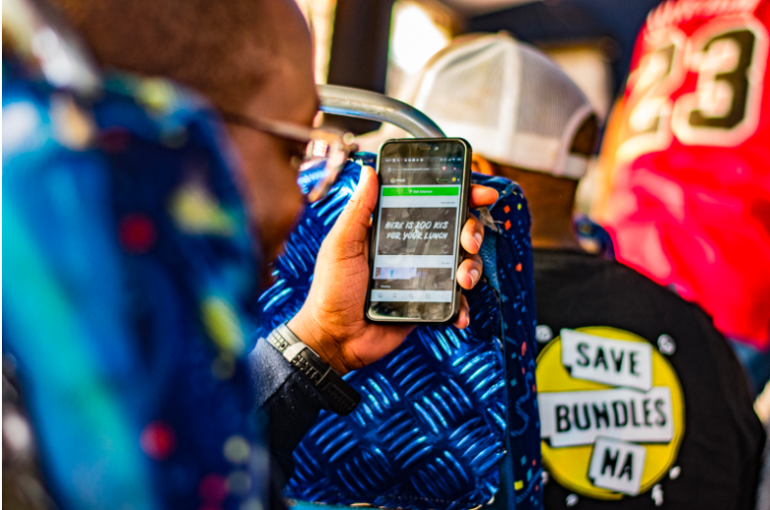 2. How Moja works
The Moja ecosystem is run by points. Businesses purchase these Moja points in exchange for digital engagements that run on our platform. Users earn these points by participating in the sponsored content. They then redeem them for internet sessions or premium content subscriptions.
Moja users have lots of cool, free content to keep them engaged while on our platform. We currently offer videos, books, music, and podcasts. We will soon add even more types of digital content for the public to enjoy. 
Landing Page
When users connect to the Moja WiFi SSID, they're redirected to our landing page, which is a gateway onto the Moja platform.
Intro Page - First-Time Users
If it's a user's first time, they are served a video from the landing page. This allows them to immediately earn a point and then go to the internet. 
Timeline - Recurring Users
Recurring Moja users are redirected to the trending page on the Moja platform. From here, they can decide either earn points, get online, or consume content served on the platform.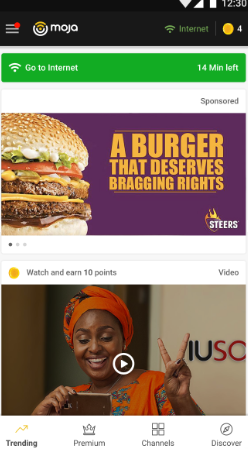 Channel
The Moja channel feature works just like a TV channel in many ways. Content from a particular media brand is curated for easy access by the user.
Discover
The discover page helps users see all the available content on our platform, segmented by category. 
3. About our Moja hotspots
Until recently, our focus has been on installing Moja on public vehicles. There are two primary reasons for this: 
In Nairobi, a large part of the population uses

public transport

(especially matatus) and, depending on the length of your commute and the volatility of Nairobi traffic,  it could take up a significant portion of your day. With access to WiFi in matatus, users have a more entertaining and productive commute.

For businesses sharing their content, this also means a captive audience. 
Keep an eye out for our Moja sticker to identify public transport vehicles and fixed locations where you can access the Moja platform.
Public transport was our starting point, and we have now expanded Moja's footprint to fixed public locations as well. Our
acquisition of the Surf network
last year is one of the steps that allowed us to accomplish this.  
4. How it impacts our users
The cost of purchasing internet services in Kenya is quite high, which means people get to spend less time online. Moja provides a platform to access the internet for free, while also getting to enjoy amazing informative content. From students doing assignments to business people staying in touch with current trends, Moja has made a huge impact on the digital environment. The drivers are not left behind, as they get to enjoy the internet while also attracting passengers to their vehicles. 
We hope you enjoyed learning about the 4 things we think you should know about Moja. Do you want to know more? Do you or your business want to publish content on the Moja platform? Please get in touch!