Gifts for the Hackers and Adventurers in Your Life
With Christmas just days away, and with some of us just getting to our holiday shopping, we at team BRCK wanted to help you find that perfect last minute gift for the hardware hacker or adventurer in your life. Most of these items are things we've used and depend on, the rest are just cool!
Sugru
This is an easy one for the makers on your list. I can't think of a more useful or fun stocking stuffer than Sugru. Sugru is a strong, colorful, moldable plastic that sticks to almost anything in it's origional. After it air-cures it's a firm, lightweight plastic with a foamy feel. All you have to do is open up the foil pouch, roll the putty around a little to get the chemistry going, and then start making. It sets up in about 20 minutes and cures in 24 hours. We joke (kind of) that the first BRCK protypes were held together almost entirely by Sugru, Kapton Tape, and Love (we didn't have budget for much else!). We've used it for loads repairs on and off the field, and early on we actually used Sugru to make quick and dirty button covers and rubber feet.
Sparkfun's Proto-Snap
Great for someone who'd like to get into hardware hacking but doesn't know a lot about it yet. Sparkfun's Proto-Snap is an intro to Arduino class on a single PCB. Basically it's an Arduino Pro Mini 328, a USB Programer, buzzer, RGB LED, Push Button, and a little bit of Proto-board all pre-wired onto one PCB about the size of a credit card. This means your budding engineer can focus on learning the Arduino Scripting language with out the frustrations that come with trouble shooting code AND hardware at the same time. Once they feel comfortable with the language, the PCB is perforated, so they can start breaking off the extra components until they have a good, simple AT-MEGA 328 prototyping board with extras for going forward.
Bare Conductive's Electric Paint Pen
We haven't used this yet, but like Sugru, it seems like one of those things that could become indispensable once you figure out exactly what it can and can't do. Because it's a paint the first thing most people will think about is fabric, but i'm really curious about painting circuits onto wood with it. It might also work well as solder-less field repair solution, but we'll have to test it to find out.
Teensy 3.1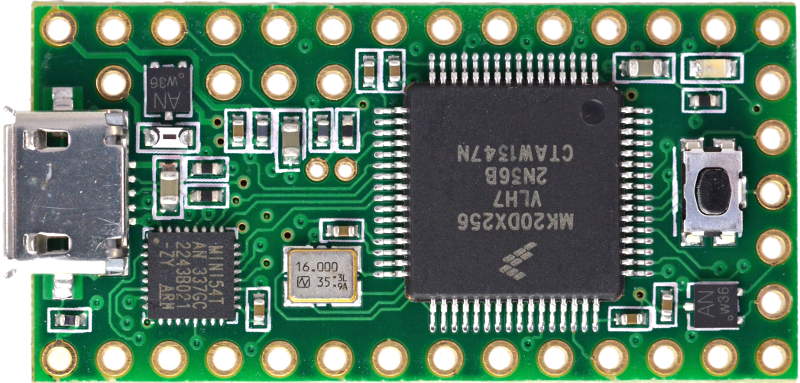 Gold Plated Teensy3.0 with some extra upgrades. That's really all you need to know. Teensy3s are like any other animal in the Arduino compatible menagerie with one big exception: they're powered by a 32bit ARM M4 processor. Comparing a Teensy 3.1 to an 8bit wonder like the Arduino Uno is like comparing a '98 Geo Metro to the new Ford Fieta ST: yes they're both useful and tinny, but only one of them goes very, very fast. Beyond the gold plating, other upgrades to the 3.1 from the original are 4X memory (64K vs 16K), *TRUE analog output*, two A/D Converters, and 5v tolerance on the digital pins (though it still needs 3.3v for everything else) which is super handy if some of your accessories run at 5v. If you know someone who's been using an Arduino board for a while, this will be a welcome upgrade. The Teensy 3.1 is one of those tools that will never be the bottle neck of your ambition.
Voltaic 6Watt Solar Charger Kit
We've found that many small solar panels quickly show their age in the face of real adventure. But, not Voltaic Panels. Voltaic designs their products with aggressive outdoor use and environmental responsibility in mind (less breaks == E Waist!) and as such, their panels are simple to use, light, strong and weather resistant. It also means they can offer a two year warranty. Also they pack more punch than almost anything else in their size class. Your tech-head adventurer will love Voltaic's 6 Watt Kit. It's got a enough juice to charge most portable electronics but isn't massive or messy (it's 2013, why have a folding panel kit?). The kit comes with Voltaic's V15 Battery Pack which is SUPER useful on it's own for evening charging or even in town as a portable power station for your phone when wall sockets are scarce. I get two full chargers on my iPhone out of the V15 before it's dead. The construction on the V15 is good as well.
Weller WSTA6 Pyropen Jr
If your out in the bush and you REALLY need to solder something, there's a chance the thing you need to repair is also your primary source of electricity, which means your iron will have a hard time heating up. Enter butane soldering irons. Think of them as cordless soldering irons powered by old fashioned fire instead of electricity. Butain irons are nice for travel because they take up very little space compared soldering stations. Most butane irons also have the added ability to double up as crude heat guns for reflow and heat shrink, or direct flame soldering torches for soft metal work. I like the Weller PyroPen Jr because it fits a sweet-spot between performance and price and all things being equal, Weller tips tend to last longer.