Great roads and a bit of engine trouble (NBO2JHB day 1)
(By Erik) I'm writing this blog post using my Mac, connected to a BRCK which is connected to a satellite internet connection using an Inmarsat iSavi device, somewhere about 100km from Arusha towards Dodoma. Inmarsat gave us this test device, a small unit, made for global travelers, so we could test out what worked and give them feedback on their tools. It also helps us figure out what connecting to the internet looks like when you're beyond the edge of the mobile phone signal in Africa. Here's Reg, using his phone to do the same at our campground this evening: [caption id="attachment_5470" align="aligncenter" width="770"]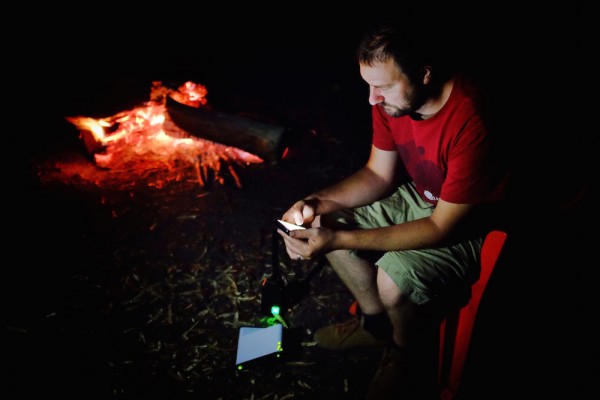 Reg using the BRCK and iSavi in Tanzania[/caption]
The Journey
We left at 5:30am from Nairobi to beat the traffic out of the city. With the beautiful new roads, we were at the Namanga border by 8am and cleared by 10am. Before you go on one of these trips, make it easy for yourself and get the following:
Carnet de Passage for each vehicle (get this via AA)
COMESA insurance (get via your insurance company, or buy at the border)
International driver's license (get via AA)
Yellow fever card
Passport
By noon we were in Arusha, and took a chance to see the cafe that Pete Owiti (of Pete's Coffee in Nairobi) set up with some Tanzanians, called Africafe. If you ever find yourself in Arusha, this is the first place you should go. Great food, good coffee, right in the middle of everything. Knowing we were only going about 100km more today, we set off around 1pm. We got to a roundabout, and I knew which direction the main road was, so even though Philip mentioned we should go right, I went left to the main road. 45 minutes later we realized my mistake when Philip checked his GPS and realized we were further away than we were supposed to be.
Lesson learned: always listen to your cofounders (especially the one with the GPS).
With many sighs, we turned around and went back to Arusha, where Reg had been smart enough to stay with the Land Rover when he realized we went the wrong way. We quickly split off in the correct direction, aiming to get to the camping spot by 4pm latest. As we were sitting in traffic in Arusha, Joel says, "Erik, your bike is smoking." I replied that it was likely just the car I was parked next to. Nope. Sure enough, I was leaking oil… For those of you who don't ride motorcycles, this is the last thing you want to hear when on the front end of a 4,400km trip. I ride a 2007 Suzuki DR650 - they have some of the most bullet-proof engines, and are perfect for Africa's roads. [caption id="attachment_5471" align="aligncenter" width="600"]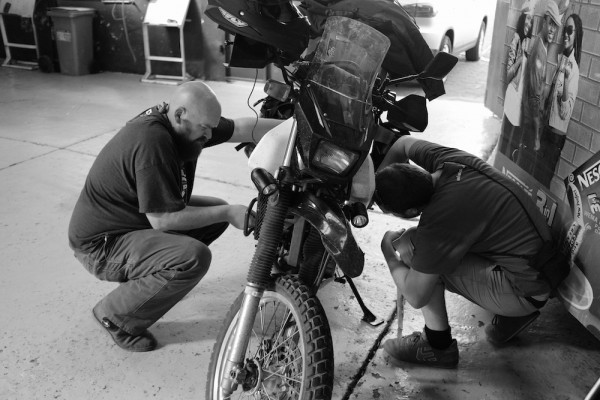 Working on the DR650 in Arusha[/caption] Fortune smiled upon us, and we were pointed towards Arusha Art Limited, which turned out to be an amazing garage (the best I've ever seen in Africa). Their director, Hemal Sachdev helped us out by helping to troubleshoot what could be wrong, and even fabricating a high-pressure oil hose, with compression fittings on the spot. There was oil everywhere, so we washed it off and kept going.
Lesson learned: there are a lot of people willing to help you in your journey, especially if you ask nicely.
5 km down the road, I was still smoking… Thanks to Hemal's help, we knew what the problem wasn't. It was now that we chanced to notice that the problem seemed to be coming from the timing chain setting hole. We realized this could be filled by a normal M5 screw, so got trucking to the campground where we could let the engine cool down and screw it in. Now, I sit here in Wild Palms Camp, some place we saw on the side of the road near the Tarangiri game reserve. For 10,000 Tanzania Shillings ($6) each, you get a patch of ground to put a tent, there is a banda with table/chairs, and there are even some showers and toilets. Not
real
camping, but definitely nice after a day on the bike!