Samburu women and digital education
[caption id="attachment_1614" align="aligncenter" width="770"]
Loading up the Kio Kits for our education expedition to Samburu[/caption] The trip from Nairobi went well, as you can expect when you're on the best roads in Kenya. There was only one small problem with a fuel line on the tired out old 1981 R80G/S when we got to Archer's Post. I'm not bitter at all that my much nicer 2007 Suzuki DR650 is constantly overlooked by everyone as they drool over the old Beemer. We fixed the fuel line by finding a local motorcycle mechanic and raiding his parts bin. [caption id="attachment_1618" align="aligncenter" width="770"]
Fixing a fuel line on the 1981 BMW[/caption]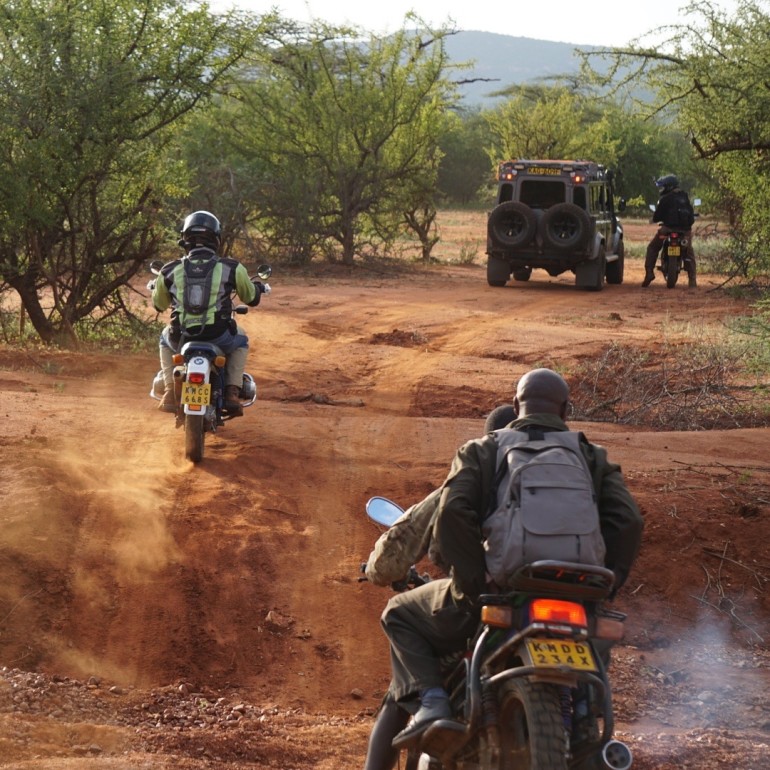 Shortly after, we shunted off of the main road into the dirt and made our way past Kalama town. Kiltamany Primary School lies about 15km past Kalama, and is the education facility for 170 children. We rolled into the school as the sun was setting, to the singing of the women in the community and the elders waiting for us for initial introductions. An unexpected outcome of the evening was that we were going to be shown how the women are learning. Sylvester, the younger Samburu man who was responsible for this program, explained that he had built this program to teach the older women and mothers in the community how to read and do basic maths in order for them to understand the value of it. This encourages them to send their girls to school for the full first 8 years of primary school, and possibly beyond. What was encouraging to see was just how hungry for learning the women in the community were. Sylvester asked us to be the teachers for the evening, so Nivi took over the classroom and worked through some mathematics with the ladies.
The Kio Kit was brought from the vehicle and the ladies watched a video on counting and number placement in Kiswahili. It's by one of our partners, Ubongo Kids, out of Tanzania. This is one of the great values of the digital education kit, and our content agnostic approach, since we can partner with specialists on education content from anywhere and help get distribution of their content to the far edges of the country. [caption id="attachment_1621" align="aligncenter" width="770"]
The Kio Kit about to be introduced to Samburu women[/caption]
We ended the night with the Samburu elders showing us a luga (dry riverbed) and leaving us to camp for the night. Most places don't have great connectivity, but we're getting fairly strong 3g reception here and are able to do posts like this fairly easily. Day 2 is going to be spent with the children from the school. Focusing on training up the teachers on digital tools like the Kio Kit and making sure that they're comfortable, then doing some classroom exercises with the students.
Written by ehersman
Comments are closed.
Most Popular
Eric Nyawara | April 17th, 2020
Loyce Chole | July 14th, 2021
Kurt Unger | May 24th, 2015
Categories
Pages

Archives

Categories