2016: The Year at BRCK
2016 proved to be a busy year at BRCK, after we announced our funding round. We started off by getting into our new office, upgrading from the small room we'd used for the previous two years.
There was a blur of events, with some of us speaking at WEF, TED, ITU, and many others. A number of visitors came through, the biggest being Facebook's Mark Zuckerberg. We had the good fortune to win a number of awards by the year's close as well:
Fast Company's 2016 Innovation by Design Awards
Sustainia Top 100 2016
AfricaCom: Best Pan-African Initiative 2016
African Entrepreneurship Award 2016 Finalist
The real work we do is focused on what our customers need, and we figure that out in two ways. First,
we spend a lot of time with them
. Second, is we do quite a bit of internal testing, as can be seen from the
expedition to Mt. Kenya
, testing out some new sensor connectivity products. Some of this work is done just because it's good to do, as Juliana and Rufus continued to support the
Africa Cancer Foundation work
, going all over the country to bring connectivity in their efforts to help with cancer screening.
We get very close and spend a lot of time with the people using our products. The Kio Kit, our education solution has been doing well, but we always strive to make it better. Mark, Alex and Nivi lead much of this work as they visited schools, spending time with
teachers
and students from
Malawi
to Tanzania, as well as here in Kenya with our trip to
Samburu
, spending 7 days with Kiltamany Primary School and working with one of our partners, Liquid Telecom to speed up their overall network (see video below).
Liquid Telecom delivers internet to pupils at remote Kenya primary school from Liquid Telecom Group on Vimeo.
Other partnerships have continued to grow.
Intel
has become a great partner, where we work with both their chip and education teams on multiple products and projects. The same applies to our local partners in Upande, who we've teamed up to do quite a bit of intense water sensor work in a county in Kenya. New partners this year include; Swissport, Illuminum Greenhouses, Norwegian Refugee Council, Close the Gap International, BookAid, and Paygo Energy.
Stuff we make
Kio Kit now in 11 countries
We started shipping the Kio Kit in the beginning of the year. After getting the kits out to a few customers in some pretty hard to reach areas, we realized we needed to harden the case to manage the rough transport that is required to get it to its destination. The hardware and software teams continued to improve both, culminating in what we feel is the best holistic education solution on the market.
Kio Kit to be used to scale up a rapid response to educational needs in emergencies. In partnership with the Norwegian Refugee Council, youth and out of school children in Dadaab refugee camp will use the Kio Kit to improve their literacy and reading skills in English and Somali. Our customers agree. Not only have they been back for repeat orders, but we've shipped Kio Kits to 11 countries around the world - stretching from
the Solomon Islands
to Mexico, and of course here in East and Southern Africa.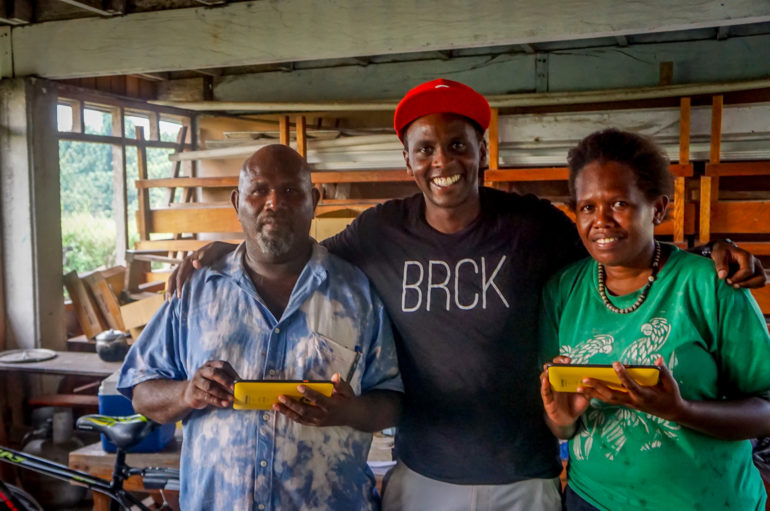 BRCK v1 goes end of life
As we get ready for the next generation of BRCK hardware, we decided to stop orders on the old BRCK hardware. Since the end of 2015 the team has been pushing hard on the next generation core device, using all of the lessons we've learned from both the original BRCK and the Kio Kit. The new BRCK will be an enterprise-grade device, more details in the new year.
R&D - continuing the innovation cycle
It turns out that there are a number of companies across Africa who badly need an IoT solution that works in our environment. Something reliable and inexpensive that can connect information from their valuable equipment and assets to the people who make decisions.
The original BRCK box states, "connectivity for people and things", and what we found out is that the BRCK v1 might technically be able to do some IoT work, but it wasn't the right device for it. 2016 has seen us go through the early stages of our new
PicoBRCK
device, an answer to the rugged IoT needs across Africa's enterprises. While still in development, we expect a final product in 2017.
2017: The Year Ahead
Expect two new products this year from BRCK, as mentioned above. A lot of the hard work put in by the hardware, software, and design teams in 2016 will bear fruit this year as we get to final productization and are able to scale out for customer orders. Much of the effort from the BRCK team will be spent on finalizing and shipping these products, while also supporting and growing the base for Kio Kit. On the business side of the house, we're ramping up our supply chain to manage the increasing demand for all products. We'll continue to extend beyond Kenya into other interesting markets, which always includes East African countries, and many Southern African ones as well. We also have a few surprises up our sleeves which we can't talk about in public quite yet. :) A huge thank you to our partners who we're doing so much work with, and of course our families who are such a great support in the ups-and-downs of a young company's life. A big thanks to our friends at Ushahidi, the iHub, Gearbox and Akirachix who make life in the Nairobi tech ecosystem such a wonderful experience. My biggest thank you goes out to the BRCK team, the ones who you don't see on stage and who sometimes clock crazy hours to solve problems, run spreadsheets, create new designs, think up new ideas, and who code, solder and respond to our customers day in and day out.
One response to "2016: The Year at BRCK"